Getresponse Review 2016: Why We Recommend It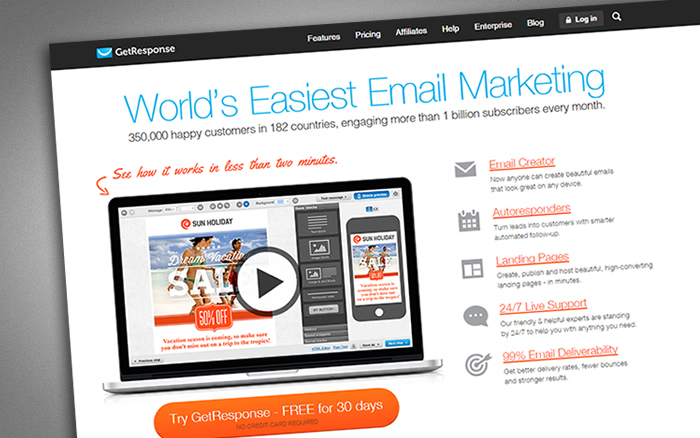 How to Evaluate Email Marketing Autoresponders
For any business new to email marketing, the first question is always which email service provider (ESP) to use? And after a simple search, you'll find plenty of glowing reviews on the many entry level email marketing services like Mailchimp, Constant Contact, and Aweber.
But the problem with many of these reviews are they get buried in minutia.
Trivial, unimportant details that a business owner could care less about. They're written by affiliates who haven't actually used any of these services. When evaluating an email service provider for your business, there are only two criteria that really matter; can it help increase revenue or can it save time. That's it. Everything else is trivial.
Business owners aren't interested in saving a few dollars per month or the number of free email templates; their businesses generate tens or hundreds of thousands of dollars in revenue per month and the only thing they care about is making more money or saving time.
And that's where GetResponse's features gives it that little lift in a crowded room full of competitors.
I'll go over the three main reasons why I think the team over at GetResponse is just killing it these days and I'll chronicle them in the order of the process an email marketer goes through to building out a lead generation campaign.  But first, let me discuss an important (but not important) feature.
GetResponse's form builder sucks.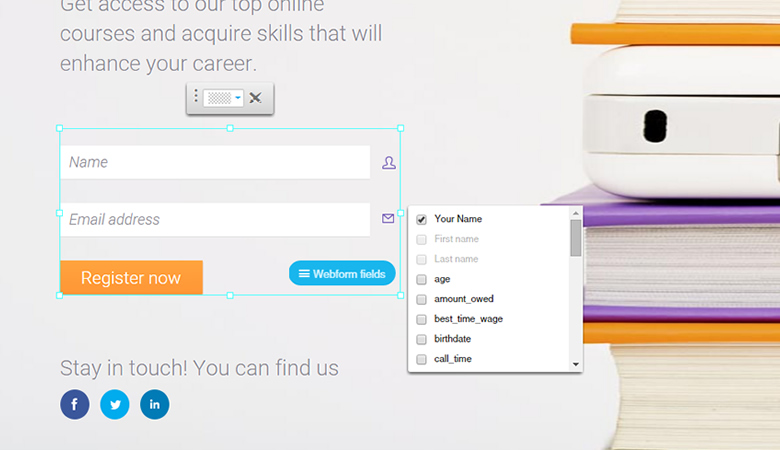 But it sucks less than everybody else or maybe just as much. Bottom line, it doesn't really matter. You should never be using it.
GetResponse offers a landing page creator as a premium addon but I wouldn't recommend it. The truth is email service providers have long delegated the process of capturing leads to third party form builders that have really become it's own industry. Companies like Instapage, Leadpages, and the numerous high quality scripts (especially for wordpress) allow you to easily create amazing landing pages for any design aesthetic by using slick drag and drop tools.  And these companies do it well, very well. They also integrate with most of the major email service providers.
Now I know all the other reviews out there will try to break this down into a fancy comparison list but at the end of day, they all suck. It's arguably the most important step of building an email list and there's such a difference in quality and features, that there's simply no reason you should ever be using your ESP's native form builder.
If you want to know what I recommend for building opt-in forms and landing pages, read my article on it here.
Okay, so not an area to spend any time on. Moving on to the three reason why I recommend GetResponse over everybody else.
1. Building and Designing Emails
The all important "Welcome Email".
I can't tell you how many clients I've come across that put zero care into their welcome email.
Whoever your target demographic is, you've captured their interest and convinced them to allow you to send them marketing material. This isn't the top of your funnel here, you've worked to get here.  And the welcome email, the email with the greatest statistical chance of being opened, is wasted.
I think the biggest reason for this is the technical difficulty that's inherent in coding HTML emails.  Most of my client's either do it themselves or will hire one individual to run their "internet" stuff.  Compared to the urgent needs a growing company has in their sales, supply chain, and customer service departments, it easy to overlook the email marketing guys.  Until I can get around to explaining that email marketing yields an average 4,300% return on investment for businesses in the United States.   That's when ears perk up and once I explain how easy the GetResponse email creator can be, it's a whole new game.
Creating and designing HTML emails must be user friendly.
And GetResponse has the easiest-to-use email creator. There are a tone of great templates but you don't really need them, except maybe to see how the design was built. You can easily modify margins, images, columns, backgrounds, and borders. In fact, there really isn't any fancy Fortune 500 email in my swipe folder I couldn't replicate with ease using the email builder.
2. Rules Based Automation
I'd say the majority of businesses underutilize email marketing. It's primarily seen as a tool to let customers know when there's a sale or special promotion. While this is definitely useful, email marketing can also be used as a lead nurturing tool and this is where GetResponse really sets itself apart from other services.
You can build out sophisticated funnels that automate your marketing.
GetResponse allows you to create email campaigns based on specific actions taken by your prospect. These actions include email opens, email clicks, subscribed, defined goals, birthdays and more. This allows you as a marketer to send targeted emails based on predefined user actions. It's quite amazing when you think about it.
Here's an example.
You have several thousand subscribers on your email list which you've separated into a "prospect" list and a "buyers" list. It's obvious the emails going out to these separate groups are different. One is constantly being sold to and the other list is your bread and butter. They already love you, are constantly buying the things you sell, and tell all their friends about you.
So when a prospect becomes a buyer, you've got move him off the prospect list and onto the buyers list. Well before I started using GetResponse, I used Aweber for years. With Aweber, I had to either manually do it or have the subscriber sign up to a new list and then create a rule to remove him off the old list. It's tedious, wasted time and unforgivably was an inconvenience to my customers.
With GetResponse, you can automate this easily. Simply use of the many automation rules that will move a subscriber from one campaign to another. That's it.