Selling Online? A Shopify Review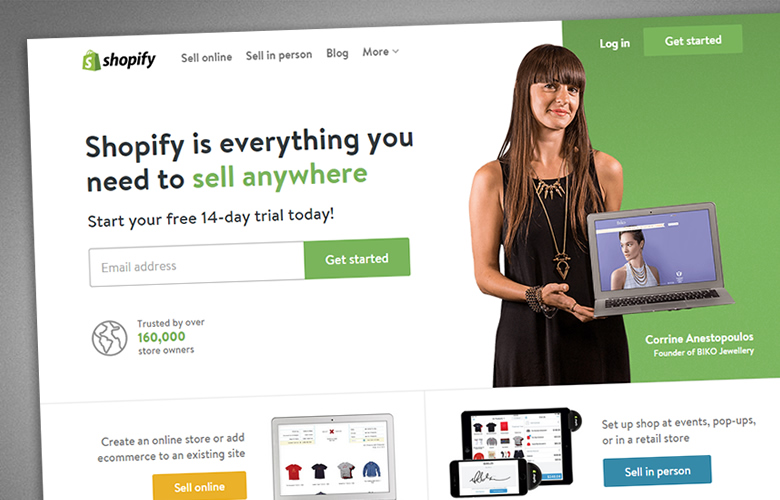 In this Shopify review, we take a look at one of the most popular solutions for creating an online store. Competitively priced, easy to use, and with well designed templates, Shopify is also perhaps the best solution for anyone who wants to use one platform to sell both online and in a retail outlet.

WEBSITEMONKEYS
Shopify

9/10

The Good

Low cost startup with a clean, easy-to-use interface. Excellent point of sale options including paypal.

The Bad

Shopify transaction fees can be high and proprietary frameworks requires specialized developers for customizations.
There has perhaps never been an easier time to be an entrepreneur. The Internet has made it easier than ever for anyone to set up an online store and start selling. And while there are plenty of great services to help you build a great looking website, most of them offer online payment solutions as an afterthought, not something integral to their services.
Enter Shopify (starting at $14 per month), a full service e-commerce solution provider offering a range of payment options, order tracking, inventory management tools, and more than 100 sleek templates to allow you to customize the look and feel of your store.
And it's incredibly easy to use.
Want to create an online store? Shopify has you covered. Need a point-of-sale terminal for your iPad in your physical retail store? No problem. I created a comprehensive virtual store in about 45 minutes. It's services like these that are going to put web designers out of business. (But not me of course, I'm special. When your store is up and running and you're looking to scale… that's where I come in.)
Getting Started
Shopify is a hosted solution, which means you don't need to worry about buying web hosting or installing software onto servers. For most users, Shopify offers everything you need to build and get your store running, a complete 'out of the box' solution.
All you need is an email and a domain name to get started. (I recommend buying your domain name separately from a different registrar like above.com so if you're not married to any one service.)
Once you create an account, you can select the online store option, the POS option, or both. These can always be added later as well.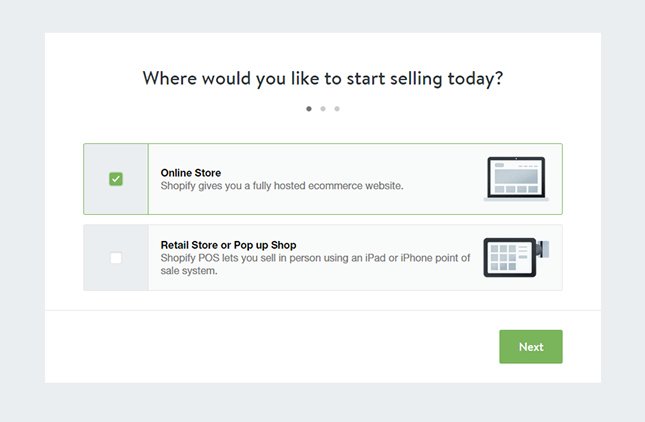 Shopify Pricing
Shopify offers a starter plan and then three variations of their standard plan: basic, professional, and unlimited. They also have an enterprise solution (Shopify Plus) which offers advanced security features, APIs and fulfillment options but we'll limit the scope of this review to their standard offerings.
Starter Plan: $14/month
The Starter Plan is essentially a paid trial. It allows you to sell up to 25 products and comes with 1GB of file storage. These aren't the only restrictions unfortunately. You can't use discount codes, edit the CSS or HTML, use carrier shipping or access phone support. While the Starter plan is certainly more than the standard plans, the lack of support and HTML editor may end up costing you more time than the money you save is worth.
Standard Plans: Basic, Professional, Unlimited
The standard plans for Shopify are Basic for $29 per month; the Professional plan for $79 per month and the Unlimited plan for $179 per month. All of these plans allow you to sell an unlimited number of products, but put various restrictions on bandwidth, file storage and features depending on the plan you're using.
It's worth mentioning that the abandoned cart recovery tool is only available on the Professional Plans and up. This allows you send emails to site visitors who for whatever reason leave your site without completing the checkout process on cart items. This in my opinion is a critically important feature for any eCommerce site and is used properly, will significantly increase sales.
In addition there are reduced payment processing fees as you move the paid plans which can add up to significant savings if your volume adds up. Shopify also offers a 10% discount on annual plans and a 20% discount on a biennial plans when paid in advance.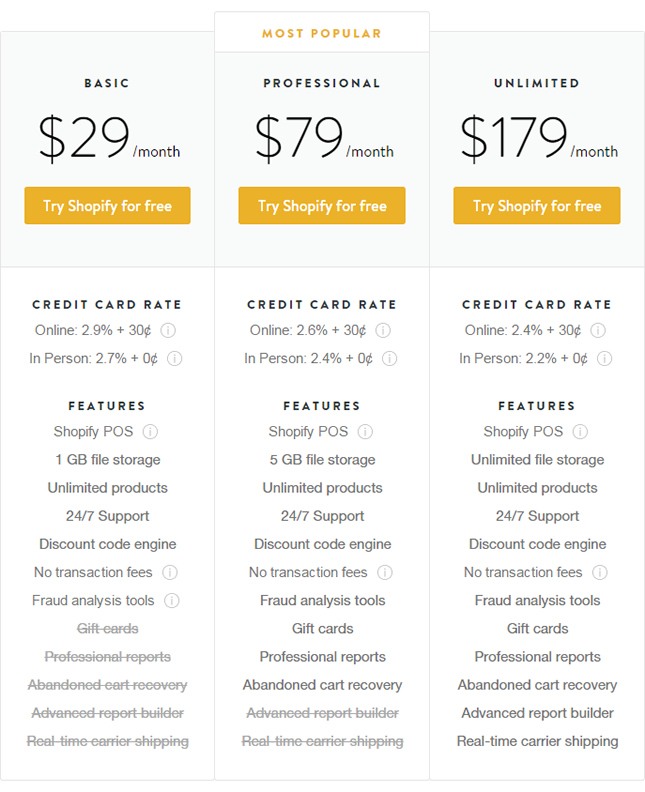 Overall Shopify's pricing is comparable with competing services like Volusion and Bigcommerce although the entry level Starter Plan is the lowest of the three.
Shopify Review Conclusions
For most business owners and entrepreneurs, there's a premium placed on simplicity and especially so when it comes to an online store. There's nothing we hate more than having to find a qualified developer to help us. The customer wants an intuitive, familiar shopping experience and the seller doesn't have much time to learn how to use the software.
Shopify makes it easy to get off the ground with basic features and the ability to fine-tune features at a later date. Shopify is our Editors' Choice for shopping cart tools for its intuitive and easy-to-navigate dashboard, and its ease of use for first-time merchants. Highly recommend.