SquareSpace, Wix, and Weebly: 3 Problems with Website Builders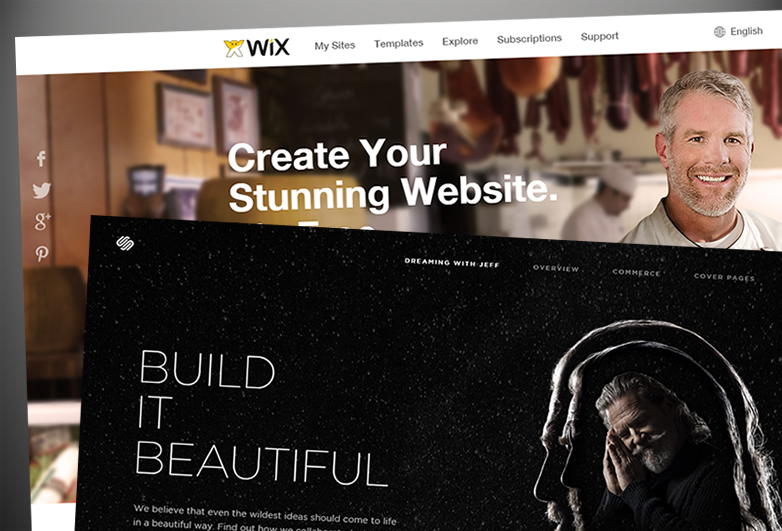 There are many solutions to getting online and there are no shortages of software services or website builders like SquareSpace, Wix and Weebly. In fact, there's plenty of buzz with around a new service called Grid that will launch later this year. The fact is, these companies have a vested interest in solving a problem that really isn't there. The truth is, building a beautiful custom website is easy.
It's Not Because I'm a Web Designer
I can't recommend any website builder and it's not because I'm a self serving web developer. If any of you have been following me you'll know I'm a big proponent of clients getting involved and attaining a level of web literacy where we can really begin to communicate and start to do wonderful things. And building a website? It's the crawling stage. With the open source resources available today, it's really become so easy to the point that paying these companies like Wix or SquareSpace for a limiting set of tools is really …. stupid ill-advised.
It's like paying someone to put gas in your car. I'm no auto mechanic but how difficult is it to learn how to use a gas pump?
Having an online presence is absolutely critical to your business and there is no reason why anybody cannot obtain the minimum web skills necessary to build and maintain a website. The learning curve to use these website builder tools are no different than learning to use the free open source Content Management System (CMS) that powers almost 30% of all websites. You've probably heard of WordPress? It's what I use for this site and also what powers the New York Times, CNN, and the Wall Street Journal. It's a platform that comes with something called a 5 minute install. How difficult can it be? In fact I wrote a book that could get a complete novice up an running over a weekend.
And because building your site is so easy, here are 3 reasons why you should think twice before using a service it's inevitable you'll grow out of.
1. You're Married
All these systems are proprietary and if you use them, it will be extremely difficult to continue on without them. It's a pack a day habit. Once they have you and especially after you've invested time learning their system, it's like you're married. What if they decide to raise prices? What if the company is sold? What if the company folds?
2. The App Store
By design, any software is designed for the masses and WordPress is no different. Any company could take a team of skilled developers and build something like WordPress in a few years. And that's what SquareSpace, Wix, and Weebly have all done. They've built website builders where anybody can create a website but within the confines of the software.
How is WordPress different? They have an App Store. There are over 35,000 developers creating plugins and themes to make WordPress do anything you could imagine. That's one of the reasons building a site is so easy. Need to create a custom form on your site? Download and install the Contact Form 7 plugin, something that takes about 5 seconds to do. This extremely large support from third party developers is something Squarespace, Wix, and Weebly will never be able to compete with. We're all familiar with Apple's app store, right? When Microsoft launched the Windows phone, how difficult was it for them to build the same type of developer support for a Windows app store? Despite throwing money at developers, they couldn't do it.
3. The Evolution of WordPress
The guys over at Automattic, the company behind wordpress are just doing an incredible job. A few years ago, I used to consider Joomla and Drupal as alternative CMS platforms for clients. But the speed at which WordPress has evolved is just incredible. They've continued to make the platform more secure, more powerful, and more user friendly. I use it almost exclusively for all my projects now unless it's a major e-commerce project. But for minor to mid-sized e-commerce projects I use WordPress and the Woo-commerce plugin which also has it's own little ecosystem of developers.
And much to the chagrin of investors and board members behind all these website builders, WordPress continues to be free.